Executive Protection services
Cambridge Security provides high-level executive protection to
corporate executives, dignitaries, athletes, VIPs, celebrities, and wealthy individuals.

Our protective services are tailored to the needs of each individual client and are world-class.

Cambridge Security's executive protection services include both event-centered security for public appearances and 24/7 protection service for clients who simply want to live their daily lives with a minimum amount of disruption. Cambridge Security also deploys security officers to work as part of a larger security team, as we did when President Obama gave the commencement speech at Rutgers University, for SuperBowl 48, for entertainment venues during Art Week in Miami and when Pope John Paul II visited New York City and Pope Francis visited Philadelphia.
Executive protection personnel are trained to act proactively in a discreet manner to ensure that your business and personal security needs are always addressed.
Our executive protection team members are carefully chosen from law enforcement, the military, Secret Service, Israeli Intelligence, and specialists in private security. Our multi-disciplined approach involves proactive threat assessment to neutralize problems before they occur. We clarify each aspect of our clients' needs and coordinate with local law enforcement, agents, managers, promoters, and venue officials eliminating any surprises. Our clients are consistently pleased to find that our organizational prowess doesn't get in the way or make their day overly cumbersome, but that it often makes things run more smoothly for them.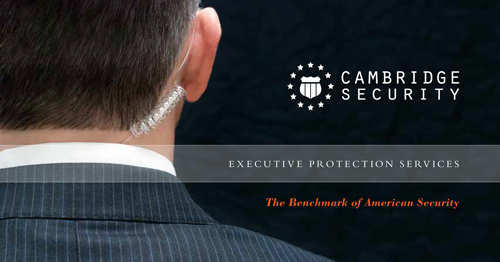 When the Asset Being Protected is a Person
Provide us with your email for a brochure on Cambridge's Executive Protection Services.
CLICK HERE
Cambridge Security's Executive Protection Services are full-service, and include secure and reliable transportation options, as well as physical protection:
Secured Vehicle Transports
Vehicle-based incidents pose some of the biggest risks to clients during executive protection assignments. Reckless drivers, preoccupied pedestrians, and unforeseen occurrences create the potential for situations with serious consequences. Our executive protection team is highly trained to detect and avoid potentially dangerous situations and deliver clients and their families safely to their destinations. Our professional security drivers accompany clients in privately-owned vehicles or one from our fleet. Whether it's a night on the town or a shopping spree, our team takes the worry of driving out of the equation, while providing the peace of mind that comes with having a bodyguard along for the ride.
Private Aircraft Security
From the first point of contact to the final destination, Cambridge Security delivers seamless and discrete protection. Businessmen, celebrities, professional athletes, and aircrews are assured safe transport domestically and abroad. Our highly trained executive protection experts are prepared for any culture or environment. We work with commercial and private airports throughout the U.S. to ensure safe travel through to the final destination.
Driver With A Presence
Cambridge Security Services has been protecting celebrities, professional athletes, and corporate executives for over 20 years, but high-profile people are not our only clients. Our security drivers will accompany you to events, restaurants, nightclubs, shopping malls, or anywhere you and your loved ones need to go.
Our innovative Driver with a Presence service brings safety and peace of mind to everyone at an affordable price. We eliminate the worry of driving and protect you from the unforeseen circumstances that occur in today's world so you can relax. You will feel at home in the comfort and convenience of your own vehicle; or if you prefer we can use a vehicle from our fleet.
For more information on our executive protection services, please call Cambridge Security at 844-GUARDU2.