Hotel Security Services
WITH CAMBRIDGE SECURITY, HOTELS CAN FOCUS ON WHAT THEY DO BEST AND LEAVE THEIR HOTEL SECURITY TO US.
Cambridge Security provides hotel security services to hotels of all sizes, ensuring the protection of guests, employees, and hotel property. Hotel security combines many of the challenges inherent in commercial, residential, and retail environments, requiring a security program that can balance your security needs with that of customer service and reputation management.
Our hotel security services include:
Doorman services, lobby concierge, and receptionist services

Security patrols of premises and surroundings (by foot, car, and/or bike)

24/7 surveillance monitoring (CCTV, etc.)

Emergency security services

Executive protection s

ervices for high profile guests and celebrities

Private investigation services for internal theft

Chaperone services for schools and large groups during hotel stays

Security consulting – risk assessment and recommendations

Security for special events at your hotel
We work with each client to develop a unique security plan that is tailored to their establishment and the needs of their staff. Our security programs combine physical and technology-based solutions for an approach that is comprehensive and dependable, and doesn't interfere with guests' experiences.
At Cambridge Security, a hotel security officer's role can extend beyond what is expected. Additional support may include daily fire extinguisher and fire exit checks, routine maintenance checks, or assisting the front desk–particularly at night when a clerk may need extra coverage. While other providers may not be willing to take on additional tasks, at Cambridge Security, our officers view themselves as part of your team and are ready to assist where needed.
Daily activity reports and any incident reports are reviewed by our supervisors and kept on file. These reports are available to our clients at all times.
Why choose Cambridge Security?
Hotel Industry Experience & Expertise


With more than 30 years of experience in the security industry, Cambridge has developed a deep pool of highly qualified, well-trained security officers to staff hotel engagements. Our executive and management teams have worked with many groups in the hospitality industry, especially in the Florida area, understanding the challenges you face.

Reputation Management


We understand the importance of reputation management, knowing that one bad security experience can damage a hotel's reputation. Cambridge Security's officers are personable, professional, and reliable. Officers are trained specifically for their job sites and they are visited frequently by their supervisors. In addition to their site-specific training, each officer is trained in conflict resolution and de-escalation of force, including the use of non-violent and verbal skills to handle potentially violent situations.

Reduce Your Recruitment and Hiring Costs
Aside from the cost of adding a new employee to the payroll, the process of screening, hiring, and training security employees can be time consuming and expensive. Recruiting reliable security staff can be difficult at any time, but especially in a tight labor market like we have today. One call to Cambridge Security can save hotel management time and money, and provide you with peace of mind.
Staff Continuity


Cambridge Security provides its officers with benefits such as paid training, health insurance and a 401K, resulting in a high employee retention rate. Our clients appreciate the continuity and the relationships they are able to develop with the officers serving their sites.

Security Risk Assessment & Recommendations


Hotels sometimes lack the resources, expertise or experience necessary to conduct a risk analysis, make decisions about integrated technology solutions, or respond to or develop plans for emergency situations. Cambridge Security's clients benefit from our security consulting expertise. We work with hotels to review their security plans, make recommendations for improvement, implement stronger security procedures, and conduct reviews to ensure that all security plans are in place and working effectively.
Whether your establishment has short-term needs, like public events and conferences, or require comprehensive risk mitigation and continuous protection, Cambridge Security is the right choice.
For more information on hotel security and how we can help you with your specific security needs, please contact us at 844-GUARDU2.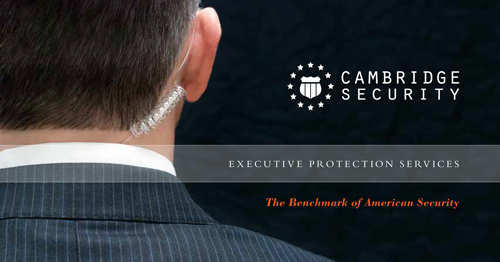 Ask About Our Executive Protection
Some hotel guests may require extra protection, such as celebrities and high profile executives. Cambridge Security understands discreet protection and how to work seamlessly with individuals who are accustomed to a high level of professionalism. For more info on Executive Protection Services for your guests, please click here.
CLICK HERE